www.tony-atkinson.com/new-book-inequality-what-can-be-done/
Sir Tony Atkinson is Centennial Professor at the London School of Economics and Fellow of Nuffield College, Oxford. He was previously Warden of the College. He is Fellow of the British Academy, and has been President of the Royal Economic Society, of the Econometric Society, of the European Economic Association and of the International Economic Association. He is an Honorary Member of the American Economic Association. He has served on the Royal Commission on the Distribution of Income and Wealth, the Pension Law Review Committee, and the Commission on Social Justice. He has been a member of the Conseil d'Analyse Economique, advising the French Prime Minister. He is a Chevalier de la Légion d'Honneur.
He is author of Unequal Shares, The Economics of Inequality, Lectures on Public Economics (with J.E. Stiglitz), Poverty and Social Security, Public Economics in Action, Incomes and the Welfare State, Poverty in Europe, The Economic Consequences of Rolling Back the Welfare State, and Social Indicators: The EU and Social Inclusion (with B Cantillon, E Marlier and B Nolan),  The Changing Distribution of Earnings in OECD Countries and Public Economics in an Age of Austerity. He has published articles in, among other scientific journals, the Review of Economic Studies, the Journal of Economic Theory, the Quarterly Journal of Economics, the Economic Journal, the Scandinavian Journal of Economics, and the Journal of the Royal Statistical Society. He was the editor of the Journal of Public Economics for 25 years.
---
www.amazon.co.uk/Inequality-Anthony-B-Atkinson/dp/0674504763
---
www.hup.harvard.edu/catalog.php?isbn=9780674504769:
Atkinson has long been at the forefront of research on inequality, and brings his theoretical and practical experience to bear on its diverse problems. He presents a comprehensive set of policies that could bring about a genuine shift in the distribution of income in developed countries. The problem, Atkinson shows, is not simply that the rich are getting richer. We are also failing to tackle poverty, and the economy is rapidly changing to leave the majority of people behind. To reduce inequality, we have to go beyond placing new taxes on the wealthy to fund existing programs. We need fresh ideas. Atkinson thus recommends ambitious new policies in five areas: technology, employment, social security, the sharing of capital, and taxation. He defends these against the common arguments and excuses for inaction: that intervention will shrink the economy, that globalization makes action impossible, and that new policies cannot be afforded.
More than just a program for change, Atkinson's book is a voice of hope and informed optimism about the possibilities for political action.
New book: "Inequality – What can be done?"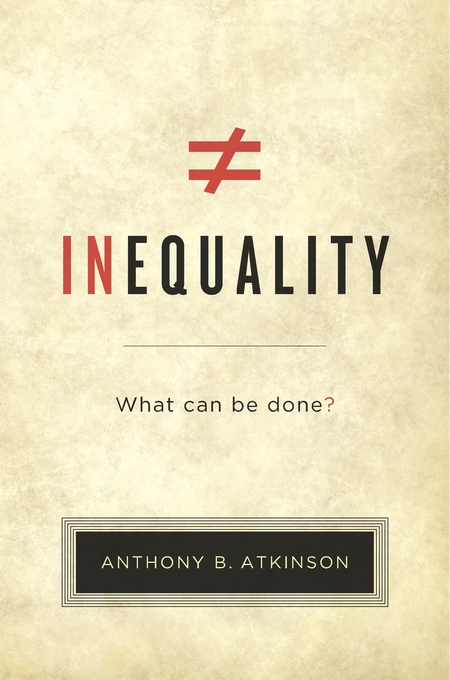 cloth • £19.95 • €25.00
ISBN 9780674504769
360 pages • 40 graphs, 6 tables
Published by Harvard University Press (Link)
Inequality
What Can Be Done?
Anthony B. Atkinson
"Tony Atkinson has done more than anyone else in helping us to understand the meaning of inequality, why it is important, how it has changed over time, and how it can be influenced. He is one of the great scholars of our time."
— Nicholas Stern, London School of Economics and Political Science
---
Read Sir Tony Atkinson's interview with Wired in which he underscores his belief in technology to advance human quality of life—when that technology is carefully considered