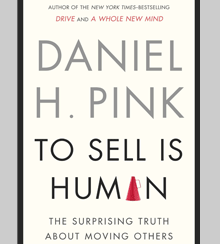 If you want to succeed in sales, set aside manipulative games and mesmerizing presentations. Instead, figure out how you can improve your customer's life. This is particularly important in the increasingly complex B2B markets, where customers face daunting buying decisions that can involve billions of dollars and where sales professionals struggle to differentiate themselves and their solutions from competitors.
Let's also set aside outdated sales stereotypes once and for all. I've always found that the most successful sales professionals are what Dan Pink would call servant sellers. In the excerpt that follows, Pink hits the nail on the head when he quotes Robert Greenleaf's vision of servant leadership—"do no harm...listen first...accept and empathize"—as a model for sales professionals. This model is well-supported by my firm's research: The thinking and behavior of top salespeople are a close match to those of the best doctors. They diagnose and prescribe while keeping the well-being of their clients foremost in their minds.
In the rush to close deals and make the numbers, it is too easy to forget that we need to address the hopes, fears, and aspirations of our customers. But today's customers are not saying, ''We need solutions!'' They are saying, ''We need help!'' If you reframe the way you sell in line with this reality, it will lead you to more valuable business relationships.
— Jeff Thull
---
An excerpt from chapter 9 of To Sell Is Human: The Surprising Truth about Moving Others
---
In 2008, [Wharton professor Adam Grant] carried out a fascinating study of a call center at a major U.S. university. Each night, employees made phone calls to alumni to raise money for the school. As is the habit of social psychologists, Grant randomly organized the fund-raisers into three groups. Then he arranged their work conditions to be identical—except for the five minutes prior to their shift...