Well, there you have it: GMAC report concludes that: "five decades of alumni, 83 percent say b-school is essential" http://t.co/ip9Z88ymZZ

— Bob_Bruner (@Bob_Bruner) March 19, 2014
GMAC asked business school alumni from graduating classes in the past five decades (1959-2013) if their MBA or business master's degree was essential to obtaining employment and 83 percent said YES.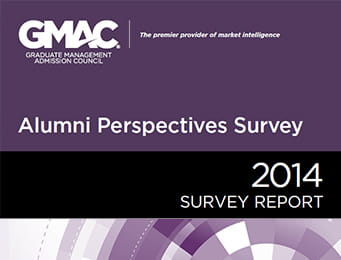 The new GMAC® 2014 Alumni Perspectives Survey Report is the debut of survey results based on direct collaboration with 132 business schools in 29 countries. The data in this report tell the employment stories of nearly 21,000 business school alumni, and offer feedback about their career progression and the value of their graduate management education.
Schools looking to use data to bolster their outreach efforts have the opportunity to connect this compelling proof from alumni with their own efforts. Survey findings about the value and satisfaction alumni gain from their graduate business education can be used in positioning and promoting unique program features (such as centers of innovation and entrepreneurship, or access to alumni mentors). In addition, the information can be applied across marketing and outreach channels to boost recruitment, fundraising, alumni relations, media interactions and more.