Mapping Intellectual Property in Global Governance http://t.co/xPTNgColW4

— Chidi Oguamanam (@Chidi_Oguamanam) January 10, 2014
www.amazon.com/Intellectual-Property-Global-Governance-Development
Paperback: 280 pages
Publisher: Routledge (April 13, 2013)
---
Intellectual Property Watch, 10 January 2014 @ 8:04 pm
In this interview, Intellectual Property Watch's William New sat down with Prof. Chidi Oguamanam, a professor in the University of Ottawa Faculty of Law, to talk about his recent book, "Intellectual Property in Global Governance: A Development Question." The book, published by Routledge, covers issues of the knowledge economy, structures and regime dynamics, human rights, agriculture, traditional/indigenous knowledge, traditional cultural expressions/folklore, and management of intellectual property in global governance.
Intellectual Property Watch (IPW): Could you please tell us about the book?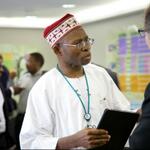 Chidi Oguamanam (CO): The first thing that will strike you is how the work brings the concept of global governance into IP analytical framework. Normally, when you talk about global governance, it resonates with the social and political scientists, administrators, development and international relations practitioners and miscellaneous actors at the global level, but hardly with those involved in IP law and policy. So, this work adds to the new trend in interdisciplinary exploration and understanding of IP.
IPW: How does the book address international organisations and IP policy?
CO: Most discussions about IP have been about regimes and institutions, such as WIPO, WTO, UNESCO, FAO, WHO, UNCTAD, etc. These include core IP regimes and institutions as well as those that are peripheral in regard to the subject of IP. But rarely has there been an attempt to weave the operational dynamics of these actors and institutions within the framework of global governance with a dedicated focus on IP.
The book explores how has IP has increasingly become ubiquitous in almost all critical sites of international law and policy, including trade, development, health, agriculture, environment, climate change, biotechnology and ICTs and their ramifications for north-south relations which constitute an integral aspect of global governance dynamic...